The National Super Alliance (NASA) on Monday met representatives from the United States, United Kingdom, European Union, Norway, and Demark where they discussed Thursday's election.
At the meeting, NASA insisted that it will not take part in the election because it lacks confidence that IEBC could conduct a free and fair poll.
According to the Opposition coalition, recent remarks by former IEBC Commissioner Roselyn Akombe and Chair Wafula Chebukati made it clear that the electoral body itself was not confident of conducting credible polls and as such, any election conducted is only a show which the coalition cannot be part of.
NASA wishes to re-affirm to the country and the international community at large and its supporters that the election scheduled for October 26th does not meet the condition deduced from the Supreme Court ruling and our subsequent irreducible minimums that we shared both with IEBC and the public.
"Three days to the election there is nothing that can change in the electoral infrastructure and our position is final that we do not recognize the election scheduled for 26th October and we shall not participate in it because it doesn't serve the country's interest," NASA's statement read in part.
The meeting came after the coalition led by Raila Odinga expressed their frustration with the United Kingdom (UK) and the United States (US) for keeping mum after IEBC indicated that they could not guarantee a free and fair election.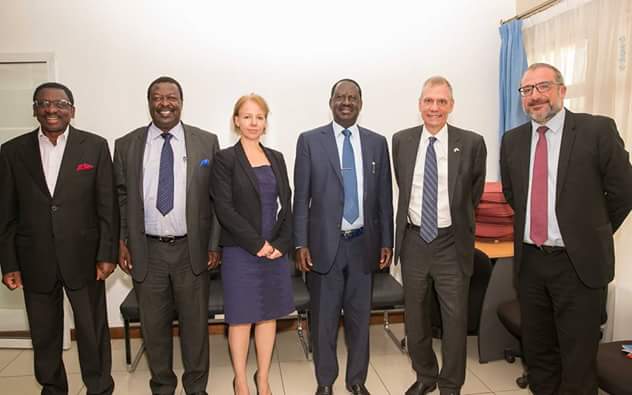 Through Mr Odinga's adviser,Salim Lone, the coalition raised concerns that the two nations had not spoken after IEBC Commissioner Roselyn Akombe resigned and Chairperson Wafula Chebukati expressed uncertainty over next week's election.
So it has come down to this: The US and the UK have not spoken since the astonishing confession by IEBC chairman Chebukati that he cannot guarantee that the election slated for 26 October will be free and fair, that his own staff do not listen to him, and that he cannot see how we can hold an election in which six million Kenyans who voted for Raila Odinga will feel disenfranchised.
"Roselyn Akombe's comments were even more startling, including her view that most Commissioners are keen to have an election even if it is at the cost of the lives of our staff and voters," Mr Lone stated.
The Opposition also took issue with the African Union (AU), accusing them of failing to help the country resolve the current stalemate.